High Performance Roller Door, opening in vertical direction, based on a modular concept for all types of industrial application from interior use up to rugged, demanding exterior positions.
Self-supporting side frames made of anodised aluminium with integrated cable channel in the back and hinged front covers offering easy access for service and maintenance.
Curtain made of RollTex® Original – colour blue (similar to RAL 5002), orange (similar to RAL 2009) or grey (similar to RAL 7001).
Door equipped with combined balancing and tensioning system offering smooth operation of the door in a demanding environment.
Top roll made of galvanized steel.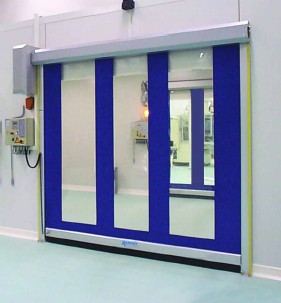 Door equipped with unique balancing and tensioning system, wind tabs on the door curtain and innovative bottom beam stopper system.
Wind resistance: up to class 3 (EN 12424), depending on application and configuration.
Bottom profile: anodised aluminium.
Drive: 3 phase motor with hollow shaft gear box
Protection: IP 55
Supply voltage: 3/(N)PE 220/230/380/400/415/440/480V; 50/60 Hz
Control system: MCCVectorControl, control voltage 24 V DC with vector control technology and boost function to ensure smooth, dynamic door operation. With graphical user interface including display unit and foil keys for easy user guided operation. Offering easy access to visualise all door parameter and service information.
Safety devices: electrical safety contact edge with cable chain integrated in side columns, door line photocell (transmitter/receiver)
Manual activation by releasing the brake at ground level by means of a bowden lever.
Opening / closing speed: up to max. 3,2 / 0,8 m/s
Maintenance
All our products are manufactured to a very high specification. However, planned maintenance can ensure trouble free operation.
Our Service Department can advise on a suitable maintenance agreement.