Doorfix Ring-gard range of callapsible gates & grilles is for higher security domestic use and medium security for commercial, retail and counter/cabinet applications. 'S' lattice design option.
Elegant good looks with a heart of steel – the Collapsible Security Gate System combines a classic appearance with the highest level of protection, ideal for your home or workplace.
Designed to keep intruders out while letting maximum light in, they are perfect for patio doors and French windows and any other vulnerable ground floor doors or windows.
When not in use these collapsible gates are surprisingly unobtrusive. Fitted to the door or windowsurround, they can disappear neatly behind curtains and a pelmet can conceal the top track.
Doorfix Ring-gard collapsible gates are exceptionally safe and easy to handle with a smooth, quiet operation. They hang from a top track with a guide track at the base which can be supplied as an optional extra to quickly fold away when not required.
The opportunity to remove the bottom guide track from the opening (an optional extra) leaves domestic French windows, doorways and shop entrances free from obstruction.
Because they are fully collapsible, each sash can be stacked neatly in the open position away from the door or window openings when not required, and may be hinged to swing away from the opening at 90 degrees or 180 degrees to provide a completely clear opening as an optional extra.
Installed inside a window, collapsible gates deliver an exceptionally strong yet aesthetically appealing barrier against intruders, which allows merchandise to be displayed safely, 24 hours a day.
The classic steel roller shutter. The scrolled slat profile is a familiar sight, now updated with a quality powder coated finish.
Exceptionally strong security barrier
Galvanised for corrosion resistance and powder coated
Fully retractable system
Excellent through vision when locked
Multi point locking from a single key
Smooth running carrier system
Custom built for any opening
Quick and easy to use
An unlimited width can be accommodated in sections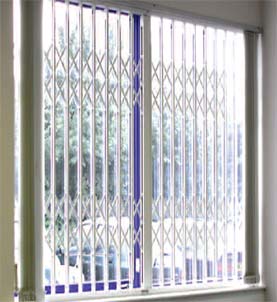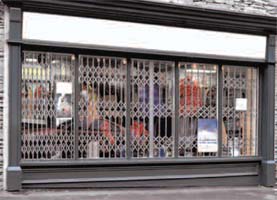 Maintenance
All our products are manufactured to a very high specification. However, planned maintenance can ensure trouble free operation.
Our Service Department can advise on a suitable maintenance agreement.